Need Theme and Plugins Properly Setup ( Pro. Log )
One request I had gotten is installing a theme and plug-in properly. It was a rather simple request but initially was also odd at the same time. Reason for that, I felt like I was hired solely because I spoke English and had an in-depth understanding of WordPress.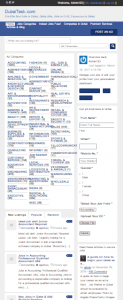 I eventually discovered there were a couple blocker issues which involved little more work from the client in order clear the issue. The first one was with Visual Composer where the API Key was registering invalid. The other was Parser-blocking with cross-origin script on CloudFlare.
The main objective the client had in mind was displaying a job listing on a website with WP JobManager. Unfortunately, the job listings were not showing up. That's where the cross-browser issues surfaced towards the end, but afterwards it was just a matter of applying the finishing touches with Visual Composer.

What makes this odd, when I went to the website later that week, all the designs I had added from Visual Composer were removed. Even knowing those were the designs he had requested. Like I said, the only reasoning I can find is that he simply wanted someone who spoke proper English and understood WordPress; a fairly minor requirement.
All in all, the time spent ( with a couple of issues ) and the money earned was fair.